CBD infused Brown Butter Sauce!
Phew Another week, another recipe! 
TODAY is Autumn, guys! So this recipe is PERFECT for the season! Also, figured you guys might want an easier recipe today if you try the incredible butternut squash soup recipe last week!
Seriously, this dinner will be ready in 5 minutes! For those wondering, I do have a pasta maker, and actually have a very simple recipe to make raviolis totally from scratch, so if enough of you want to do this from start to finish, we can do it!
But today..These bad boys are actually from Aldi, and They. Are. Amazing. I was a little skeptical at first, as I am not really a "pumpkin spice" kinda girl, so i generally skip pumpkin things (except for pie on Thanksgiving!) But these peaked my interest and I am soo glad I bought them. You will have a restaurant style meal in no time at all! And best of all, another amazing use for our Isolate!
Note: I give my preferred dose for the CBD portion, use whatever works for you! My advice is to start low, and see where you feel the most benefits!
INGREDIENTS
Bag of Raviolis
1/4th of a stick of butter
1 Tsp of Brown Sugar
Less than 1/4th a teaspoon of Isolate
Walnuts or Pecans* (Optional, and use the amount to your liking!)
DIRECTIONS
Boil raviolis for 4 minutes, strain!
At the same time, in another pan, begin to melt butter
Add all other ingredients 
Keep stirring until totally melted through.
Pour over raviolis and serve and enjoy!
There we have it! Super easy one today, but it will NOT feel that way, trust me! I seriously ran back and bought 4 more packages, If you love this recipe, hit us up on Facebook or Instagram! If you already ordered your isolate you are one step ahead for all my upcoming recipes! See you Friday for the next one, so until then, have a great week!
Diane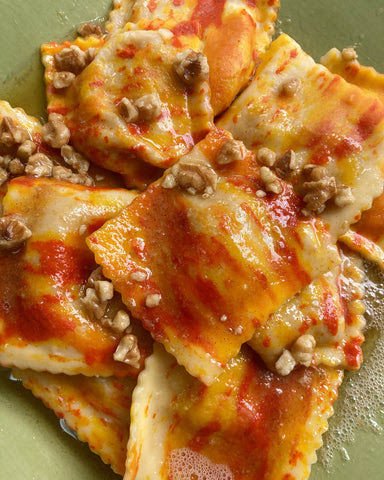 Tags:
baking recipes
,
cannabis
,
cannabis recipes
,
cbd
,
cbd infused recipes
,
cbd recipes
,
fall recipes
,
hemp
,
new recipe ideas
,
recipe
,
recipe blog
,
recipe ideas
,
recipes